Thursday 2:30, all's well!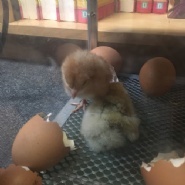 Did you spot the mishap last night?
We had some water spillage overnight leaving two of our chicks wet and weary this morning. They have been recovering in the incubator, and are now looking much happier. All being well, they will return to the brooder box this evening. I hope you'll be tuning in to watch the video again! Have you counted how many male and female? Thought of any good names yet?
No comments have been left yet.