Friday 24th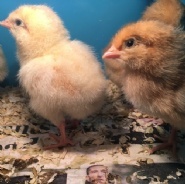 All the chicks are doing well, back together, in the brooder box.
We have six happy and healthy chicks; two female and four male. The two that had to go into intensive care yesterday recovered well and are eating, drinking and keeping warm with the others. This weekend they will be cared for by one of our pupils and next week will be visiting each class so that all the children will have a chance to handle them. The classes will also take turns in cleaning and feeding the chicks. We will get the you tube video back on in the evenings next week, so that you can keep an eye on them from home. If they are not on the live video, you can look at our previous videos using this link.
No comments have been left yet.