Wednesday 29th - Names!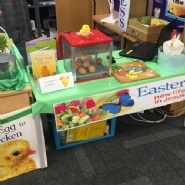 Our chicks are continuing to grow - most of them even have names...
The chicks have spent some time around school today - they are eating the food like it's chocolate and growing at an incredible rate!
The purple headed chick belongs to Class 1.
As we told you yesterday, the blue headed chick is called Max and belongs to Class 3.
The green headed chick belongs to Class 4 and is called Mrs Peckweather.
The grey headed chick is called Flappy Fluffington and has joint parents - Year 3 and Year 4.
We're seeing them change by the hour so keep your eyes on the live feed!