Class 6 Harvest Visit to Church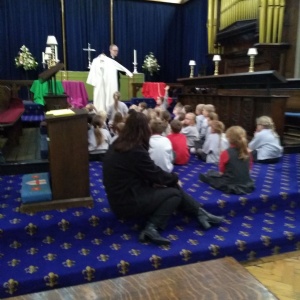 Last week, Class 6 joined Reverend Mike and the congregation for the Wednesday service.
Before the service, Reverend Mike answered some of our questions about the church. We found out that the word 'pulpit' comes from the Latin word meaning platform and that Reverend Mike has lots of different coloured clothes for different times of year in the Church calendar. We were then allowed to explore all of the building - even in the choir vestry!
In the service, some of our class helped Reverend Mike think about the word HARVEST. We thought about how we could do something practical this harvest time to help those less fortunate than ourselves. Finally, the class left some Harvest Cards for the congregation on Sunday.