Arts Week 2020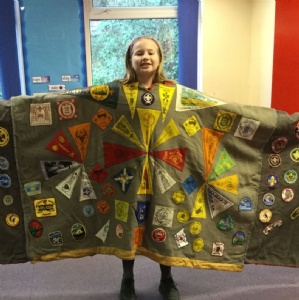 What a fabulous start to the new term - so many transformations around school, and exciting things happening!
There is such a buzz around school this week; I'm almost sorry I only work part time! I've had a quick chat with some of the children this morning to find out what they have been enjoying most.
Class 1 & 2
Darcy has had fun tie dying a T-Shirt in her team colour, blue.
Anya has learned lots about the solar system using the VR headsets. She couls see the sun which was big, red and yellow. The planet next to it was grey.
George and Oliver were playing together this morning. George has particularly enjoyed his visit to St George's. He has loved reading stories, playing with new friends, and love all our decorations. At Mossy Lea, he loves doing number work with Mrs Griffiths. Oliver loved going through the wardrobe and dancing on the other side.
More about the wardrobe from Class 9. Abigail loved going through to the Sixties disco and listening to music from artists such as Elvis, Jimmy Hendrix and The Temptations. Mr Horne's band was very exciting with lots of guitars and drums, playing modern rock music. Apparently Mr Horne is excellent on the tambourine!
Edward has enjoyed learning about Roy Lichtenstein's Pop Art which uses primary colours with lots of dots and lines.
Class 8 have also been through that Narnia stylewardrobe! Lily and Ella have listened to music from the past, the present, and now have an inkling that they will be hearing music from the future - they are just not sure how!
Ethan and Jack have been taking inspiration from the music they have listened to, and have written their own songs using Garage Band. They are now busy designing album covers....Yes! They've learned what vinyl is!
Molly had a good look around the planets in the solar system, but it felt a bit weird when she looked down - a big black hole!
More to follow, and have a look at the pictures too.