Crafty Christmas 2021: Festive Light Boxes, with 'Pocket Wren'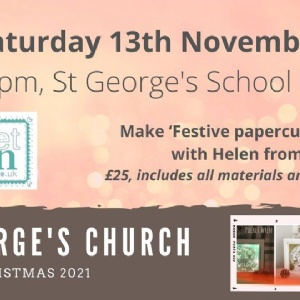 Crafty Christmas 2021: Festive Light Boxes, with 'Pocket Wren'
Come along and make a beautiful festive light-up papercut frame, perfect for your own ho-ho-home or to give as a lovingly-crafted, handmade present this Christmas, with Helen from 'Pocket Wren'
https://pocketwren.co.uk/
This lovely festive workshop covers the basic skills of decorative paper cutting. You will learn the techniques to create something beautiful from the simplest of materials - the humble sheet of paper.
What to expect:
* Quick run-through of the tools needed
* Essential tips and tricks in paper cutting
* Opportunity to practice your cutting skills
* Cut and construct your own framed light-up snow globe from a choice of templates
Don't worry - drawing skills are not essential - you just need a steady hand and a bit of patience!
Festive Refreshments are included!
*All profits from this event are donated to St George's Church funds*
To book, please email:
events@stgeorgechorley.co.uk , or for more information, call Sarah Calvert on 07539 593 578
See less