Bishop Phillip leads worship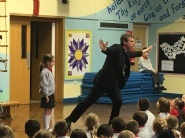 Bishop Phillip came to lead worship and retold the well known bible story of Bob, the goldfish! Also contains a character named Jonah.
The children listened with delight, and some joined in to re-enact the story of Jonah. As part of the deal for the retelling of such a good story, in a very entertaining and engaging way, the children were challenged to think of the meaning of the story.
You can see the photos by clicking here.
If you were there, can you remember some of the responses? Or would you like to add your own ideas in the comments below? Please note that your comments will not be published until approved by a teacher.
No comments have been left yet.