Prayer Days 2017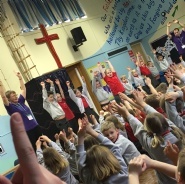 Margaret and her team came into school to lead us with prayer journeys and activities.
The day began with whole school worship. Steve retold the story of Zaccheus in order to help Rocky change.
Zaccheus changed in his story. He was a tax collector and a thief, but he did change his ways. What happened to make him change? Can you remember how and why Rocky needed to change? What is the message in this story for us?
Why not send us your ideas in the comments below.
You see pictures of the day by clicking here
After Worship, Margaret and her team led us through prayer activities in small groups, and in the classes. The children enjoyed taking part and gave some very thoughtful responses.
No comments have been left yet.