Purple Mash Festive Card Comp - Now Closed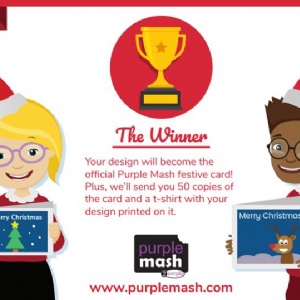 Purple Mash is a fantastic resource, and although the competition is now closed, you can still Log in and design a Christmas Card to display on our boards.
Thank you to those who entered the Competition, and Good Luck, of course! The competition is now closed but you are welcome to Log in to Purple Mash at any time to try out some of the great activities available to you. If you'd like to design a card you can still publish your finish designs on our boards, which are displayed below.
We are keen to get children making more use of Purple Mash. Once you log in, you'll find many activities and resources at your finger tips! We've already had positive pupil feedback about the Maths games - great for practising essentials such as Number Bonds and Times Tables.
You can Log in here, and will need to use the Log In details you received in a letter earlier this term. You can also find this link on our Learning Links page. (Please note that if you Google Purple Mash, rather than using our direct link, you will need the additional step of finding our school.)
Under 8's
Under 12's