They're back!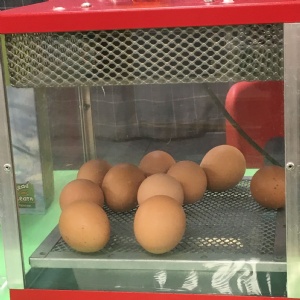 Of course, the most exciting news today is that the children are back! It is so nice to be working in the happy and comforting atmosphere of a school full of children. Happy sounds are all around; classes are following the one way system to go off to different activities, all with great joy and purpose; its wonderful! And amongst all that, my task of the day is to settle our clutch of eggs into the incubator, and get the egg cam up and running. Happy days.
Thurs 11th March 9am
Well, if you were lucky yesterday afternoon, you'll have seen the third chick hatch just before the live stream ended. Overnight, more have hatched an today you can count how many chicks we have. Can you tell how many are boys and how many are girls? How do you know? Answers in the comment box at the bottom of the page please! The chicks will be moved to their brooder box later today.
Wednesday 10th March, lunchtime
Well, technology got the better of me yesterday, and the live stream failed. Fingers crossed for better luck today. Of course, while the camera has been off we have had our first hatchings...can you see how many? If the live stream continues successfully, you might be lucky enough to see one hatch as it happens!
Wednesday 10th March
Monday 8th March
Eggs before Easter is a firm tradition at St George's, and this year they have their temporary home in our newly refurbished library. Ten eggs arrived first thing today, and they are now settled into the incubator to be kept at the correct temperature and humidity until they hatch. This should begin around Wednesday, but could be as early as tomorrow. Which egg have you got your eye on to be the first? How will we know when it is imminent? It is important to keep the eggs in the incubator, but do you know why? What does it do? Think about a mother hen and her chicks on her farm...it does pretty much the same thing. Please keep an eye on our YouTube channel and follow the live streams from wherever you are. If you have any questions or comments, please use the comments box at the bottom of the page.
No comments have been left yet.