The Mayor of Chorley comes to our Big Dig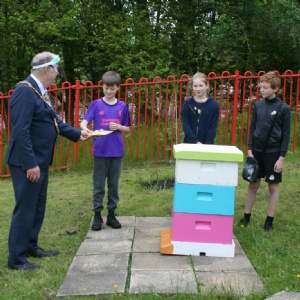 We were very pleased to welcome the Mayor of Chorley to St George's today. He had heard about our Greenhouse project and wanted to come and see it for himself. Today was also our Big Dig day - Mayor Holgate got involved too, digging one of the plots around the KS2 playground! Keep scrolling for more photos.
Some of the children in Year 6 were able to show the Mayor around the improvements to our outdoor space. Hannah explained how the quiet area had been neglected and asked her mum to come in and do some weeding one half term holiday. 9 months later, and the transformation is incredible! The entire school has now been involved in planting something that is in the greenhouse - and the list of fruits and vegetables being grown on the school site is incredible.
The Mayor was particularly interested in the plastic bottle greenhouse and Year 6 were able to tell him how we had collected the bottles ourselves and sourced many of the structural elements for free. Year 6 then led the Mayor to the bug hotel and the compost bins before asking him some questions about his own Eco-Project, EPIC (Environmental Projects in Chorley).
While at the new Bee Hive, the Mayor presented Year 6 with some wildflower seeds which will be planted in our Big Dig areas to encourage bees and other wildlife to the area. He explained that he wanted to get the message out to all of Chorley about re-wilding our local area.
Well done to all our classes for some excellent digging - the wildflower beds look fantastic! We are looking forward to seeing our wildflowers grow there over the coming weeks and months. Thank you to Mayor Holgate for his enthusiasm and his interest in our project - we'll have to have you back to try some of our honey when it's ready!