Duck Eggs!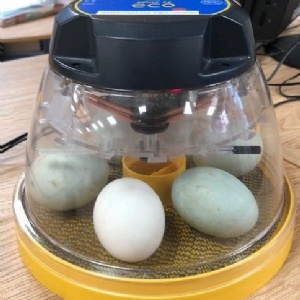 By way of an exciting change this year, we are hatching duck eggs instead of chicken eggs!
Thursday 24th March 2022
Five happy, fluffy and very cute ducklings are now pottering around the brooder box. What do they have in the brooder box to keep them healthy? Have a look and see. Use the comments box at the bottom of the page if you have any questions or would like to tell us which is your favourite duckling!
Wednesday 23rd March 2022
Good Morning
All the eggs have hatched at all five ducklings have now moved into the brooder box.
Tuesday 22nd March 2022
Evening.
Great excitement in school today, just before lunch as our first little duckling emerged from its shell, followed soon after by the second. These two have now been transferred to the brooder box and we have left the webcam on the incubator this evening. Keep watching!

Morning.
I'm so glad that the eggs didn't hatch in the darkness last night-we forgot to leave the lights on so that you could see what was happening! This morning there are cracks and some movement...keep watching to see what happens. Use the comments box at the bottom of the page to let us know what you think or ask any questions you may have.
Monday 21st March 2022
Afternoon.
Morning
The eggs were delivered early this morning and are expected to hatch within 48 hours. Can you see how many eggs we have? There are not as many as we have with chick eggs. What other differences can you see, and what things will be the same? Please add a comment below and let us know what you think. You can watch the Live Stream here for today, and keep checking back for updates.
No comments have been left yet.