Week Commencing 19th at St Georges.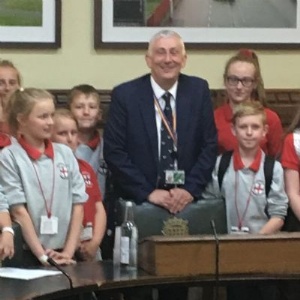 A few highlights of what's been going on this week.
Class 7 had a visit from Stephen and Harold the Giraffe from the Life Education Bus. The children learned about the importance of keeping their body healthy and were even able to see organs inside the body with the help of an extra special t-shirt! They also talked about how unique everyone is and friendships.
St George's football team won one and drew one in the first round of this years league games. Huge well done for tonight kids, you did yourselves and the school proud.
Class 7 have had a brilliant Roman day today. Perhaps not the one we were hoping for but the children have thoroughly enjoyed the activities we've done.
* Designing and making a group mosaic.
* Making a Roman shield and then re-enacting a battle on the yard this afternoon using a tortoise shell formation.
* Researching Hadrian's Wall.
* Taking part in a Latin word and Roman numeral hunt. The children had to use their knowledge of Roman numerals and what they represent today to help them match Latin words to their modern day equivalent word in English.
* Learning about Roman musical instruments.
Class 4 had a busy afternoon today. After a relaxing yoga session we listened to Mrs Gilkes tell us all about her time working for the Queen at Buckingham palace. From peeling potatoes to finding hats and handbags. It sounded fascinating.
A busy and exciting day for class 5! Thank you so much to Mrs Gilkes, who kindly came into our school to tell the children and staff all about her job working for Queen Elizabeth II at both Buckingham Palace and Balmoral. The children got to see menus from the Queen's chefs, invitations to the Queen's Garden parties as well as learning all about the Queen's lovely sense of humour and how she loves to bathe
. Thank you again