What an amazing week back..... and we're not even at focus week yet.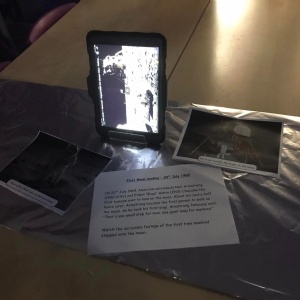 What an amazing week back..... and we're not even at focus week yet.
Year 5 have had a great start to their topic on Saxon and Viking Britain. We have studied the early impact of the Saxon and Viking settlers, preparing the way for us to learn all about the period between the death of Alfred the Great and 1066. Like Saxons and Vikings, we used map reading and orienteering skills to decode Viking runes. We wrote in Anglo-Saxon runes and played a Viking board game called Tafl. Lots of photos to follow, but here are some of the orienteering.
Good evening from the music team
First notice: - Ukulele is back on tomorrow, both the in school lessons and the after school club.
Second notice: - Young Voices tickets were bought and paid for in November. We're waiting on their arrival - they usually arrive close to the concert date. Then we can send them out as soon as we have them.
Class 5 had a very exciting morning! Discovering a spaceship
in class and a missing astronaut
. The children visited a carousel of stations to learn about the different roles of astronauts and all about their big moments in space travel history.
The children will start our Literacy topic based on the text 'The Man on the Moon' tomorrow.
If you see a lost astronaut anywhere, please send them to class 5!
Class 8 have had a brilliant day to start our Viking topic. We've had great costumes, Viking battle formations and even played Viking board games.