W.E 27.1.2023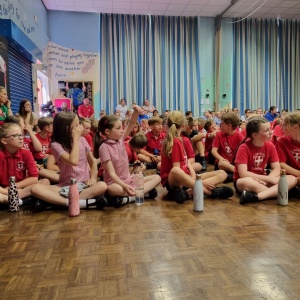 Class 7 have become sculptors this afternoon! As part of our Art unit about Henry Moore, the children have worked in pairs to begin creating a 3D model out of foil and papier-mâché. They have had to think about a pose showing emotion and proportions similar to Henry's sculptures. Once finished, they will paint the sculptures and add a clay plinth.
A message from Sarah Calvert..... Hi, we are looking for additional weekend duck keepers. Time commitment is about 15 mins per shift and we have a rota so families only have one slot per weekend. If you'd like to help, please email s.calvert@st-georges.lancs.sch.uk.
Perks include happy quacks and you can take any eggs you collect. many thanks
Mad science visited us this morning for a fantastic science assembly. We learnt how sound waves travel and created our own storm sounds. We finished the assembly with a fire wave which was amazing ! If you would like the chance of a place in the mad science after school club follow the details on Newsletter 27.1.2023.