2018 Starts in Style......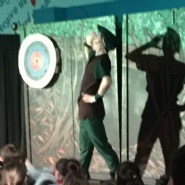 The children were entertained in the traditional way this afternoon.....
It's a pantomime! Oh no, it isn't. Oh yes, it is!!!
To be honest, I wasn't in school this afternoon, but Mrs Harrison kindly took some photos (maybe she even got Y6 to take them!) Anyway, it looks as if they were all having fun, and you can view the photos by clicking here. I don't even know which panto it was, but perhaps your children can talk you through it.
You could even tell me about your favourite characters, funniest parts, scariest bit e.t.c. in the comments below. I'm sure I'll hear more about it on Thursday!
Karen Brown
No comments have been left yet.