The Eggs Are Here!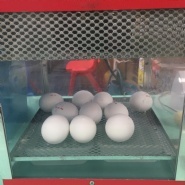 Our clutch of special eggs has arrived in school, settled in to their incubator, and already beginning to pip!
Thursday evening.
All the thriving chicks are now in the incubator. The remaining eggs are unlikely to hatch now. This is fact of life...hens lay lots of eggs because not all will thrive. Enjoy watching this active bunch in the brooder box though! Can you count how many we have? Next week they will be aout and about around school, joining in with a variety of activities!
Thurs morning
Some of the chicks have now been moved to the brooder box.
Weds Evening
More chicks have hatched during the day, and the webcam is now live again, until 11.30pm this evening. There are still chicks to hatch, so keep watching! You can let us know what you think in the comments below.
Weds 8am
Three chicks have hatched overnight! The Video stream from You Tube runs for a max 8hours, which means it ended about 1am this morning. No sign of chicks then! We were a bit concerned that the web cam had frozen - but it is hard to tell if the eggs don't move much! Careful observation does show a change it light levels, and a few wobbles, so maybe we just ended before the hatches. The web cam has been reset and this feed will run until lunchtime today.
Tues 13th March
The eggs arrived yesterday, Monday. The great eggscitement this year is that the clutch of 10 are pure white in colour! No boring brown eggs this year. What can this mean? Ducks? Snakes? Crocodiles? Rumours abound! Watch our webcam, which will be streaming live later this evening. There are already signs of pipping from some of the eggs, so it should be an eggciting night. How many will have hatched by morning?
View the webcam on You Tube just here https://www.youtube.com/watch?v=URnyl-LZA4U