Chicks Week 2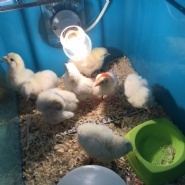 The chicks will be out and about in the classes this week.
Tuesday afternoon.
The chicks had an enjoyable but eventful weekend, at home with Mrs Barclay. They survived a power cut and the bulb blowing in their brooder box! They are back in school and will be visiting the classes, joining in with a variety of activities.
You may notice some of the chicks now have colourful mohican hair do's! Each class adopts and names their own chick and this is how they are marked for recognition! The chick with a blue line is Kev, adopted by Classes 1 & 2, and the chick with a green streak is Class 5's Popcorn!
The webcam should run until 11:30pm - enjoy watching, and let us know what you think by commenting below.
No comments have been left yet.