Our London Trip!!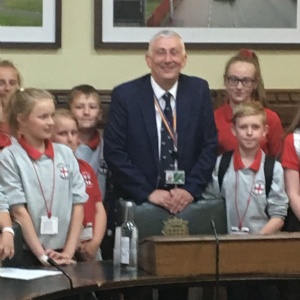 Monday the 11th June was an exciting day out and we'd like to tell you all about it.
It was an early start and we had to meet at 7am at Wigan train station. It took 3 hours to get to London, and it was the first time some of us had been on a train so it was very exciting!
Once off the train, Mr Purcell put us in 'Mega Formal Mode' as travelled onwards by foot and tube to get to the centre of London.
We had to go through security to get into the Houses of Parliament, and we all had to have our bags checked. We split into two smaller groups and had a tour around. Did you know the Houses of Parliament used to be a palace and Henry the 8th was the last monarch to live there? Henry moved elsewhere and his son gave the building to become the Houses of Parliament. The building is now used as a meeting place for the MPs to make important decisions and Laws.
We got to stand in the Tudor rose in the Central Lobby, which is right in the middle between the House of Lords and the House of Commons. This is a very ornate circular hallway with corridors leading from it. We found out that the House of Commons is more important because they get to decide on the Laws. The House of Laws cannot stop a law from being made, they can only delay it.
We met Lindsay Hoyle in a committee room and we got to ask him lots of questions, some of which he avoided answering directly by talking about something else - a true politician!
It was even exciting waiting for him because there were fantastic views over the Thames and the whole of London.
Another interesting thing we saw was the New Dawn Sculpture which celebrates the 150th anniversary of John Stuart Mill MP presenting the first mass petition calling for women's votes in the House of Commons, marking the start of a campaign which lasted decades. It was lit by the tide - when the tide is higher, more lights are lit. The lights change colour and move around, and it looks really spectacular.
After the Houses of Parliament, we walked through Green Park to Parliament Square where we ate our lunch. We were starving because it was 2 O'clock!
We walked past Buckingham Palace on the way back to the tube, tired and ready to get back home.
Since then we have been very eager to write about our trip and tell everyone about it. This magical experience will never be forgotten and we are eternally grateful to everyone for their effort to put this trip together. It was a truly fantastic day, that we will remember for the rest of our lives.
No comments have been left yet.