St George''s Day 2010

Year 4 have written personal recounts of St George's Day events. Here is a compilation of their work, covering the days highlights.
St George's Day Celebrations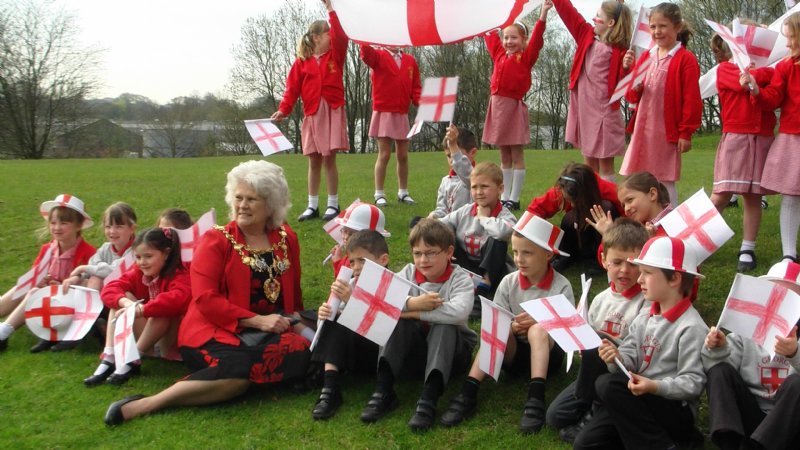 On Friday 23rd April it was a special day - St George's Day. We celebrated the day because our school is St George's School. He is the patron Saint of England, like St Patrick is for Ireland. It was great fun. Do you want to know what we did?
First we did SGW (St George's Work) with Mrs Fothergill. We learned that St George was in the Roman Army. The Emperor wanted St George to kill all Christians who followed Jesus. George said NO and he even said that he was a Christian. The Emperor hated Christians so he beheaded St George.
In a special assembly Mr Purcell showed us a mini slide show with the legend of St George and how he killed the dragon, and lots of facts about St George. St George's Day is very popular in many different countries like Greece, Cyprus and Portugal.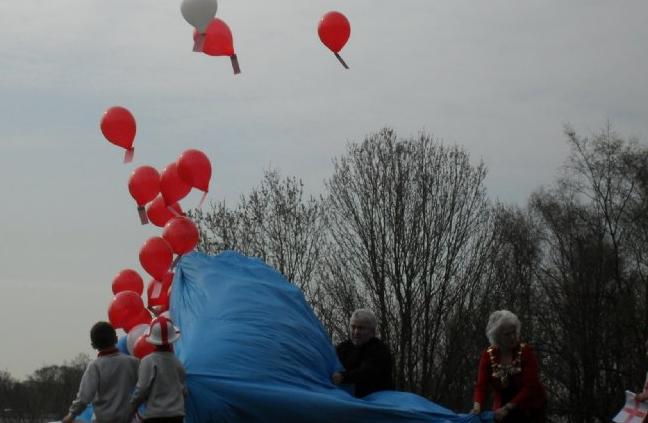 At 10 O'clock we went on the Junior playground to set the balloons off for the balloon race. And guess who was there? The Mayor! Some of our parents came to watch too. The balloons were in a ginormous blue sack with thousands of balloons! We did a count down – 5... 4... 3... 2... 1... Go! Three infants let them go, the bag opened and out came white and red balloons which went shooting up through the air. All the balloons floated off into the distance above the trees, and when the balloons pop, the tickets will fall to the ground and people will send them back to school. Who do you think is going to win? I didn't have a balloon – I totally forgot!
The Mayor came into school and visited all the classes. She answered all our questions.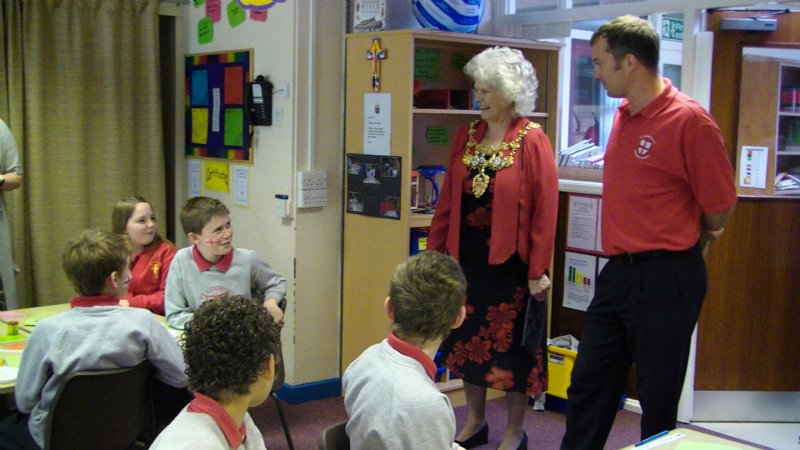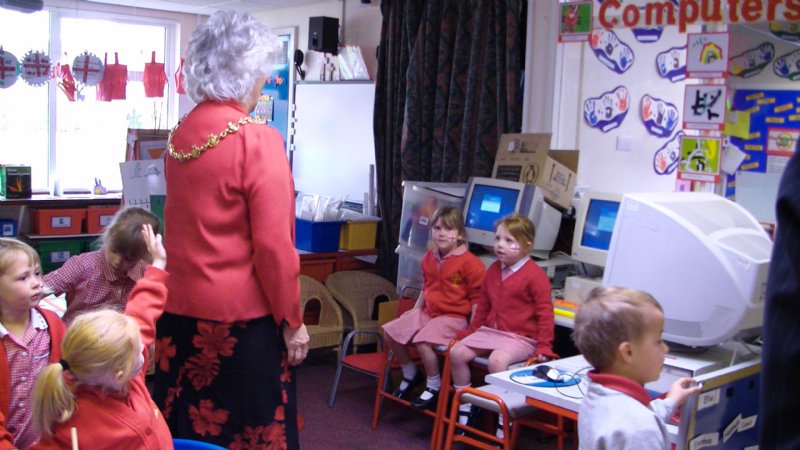 After the balloon release and at playtime we went in to the hall to buy a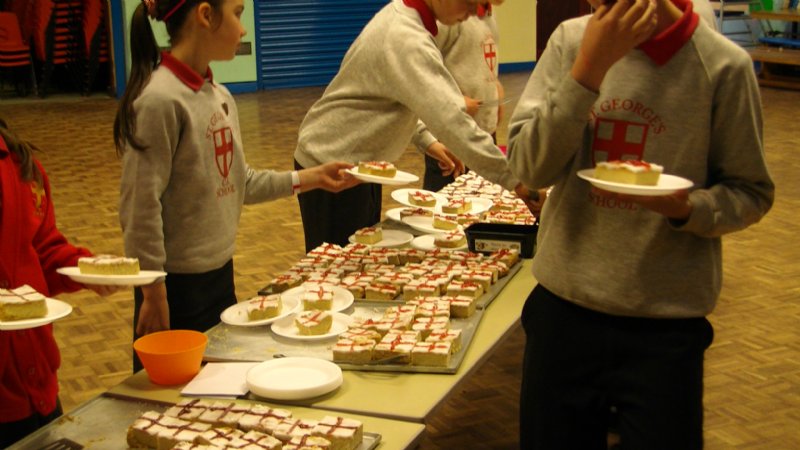 delicious St George's cake. It was shortbread and it was beautifully decorated with a St George flag made from white icing and a red jam cross on the top. (Yum Yum!)
Next the School Councillors went to see some governors and guests. We had our photograph taken with them.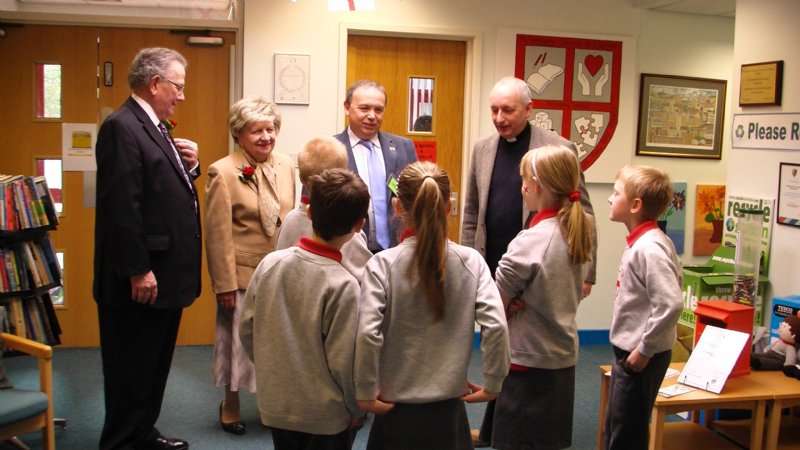 We wrote some facts about St George's Day. One of mine was that St George's Day is Shakespeare's birthday, and that he also died on that day 52 years later.
During Music, we went out to have our face painted. Y6 did it really quick, and it was really tickly! They did a St George's on your hand or your cheek. Mrs Fothergill got her face painted too, and even the Mayor joined in the fun!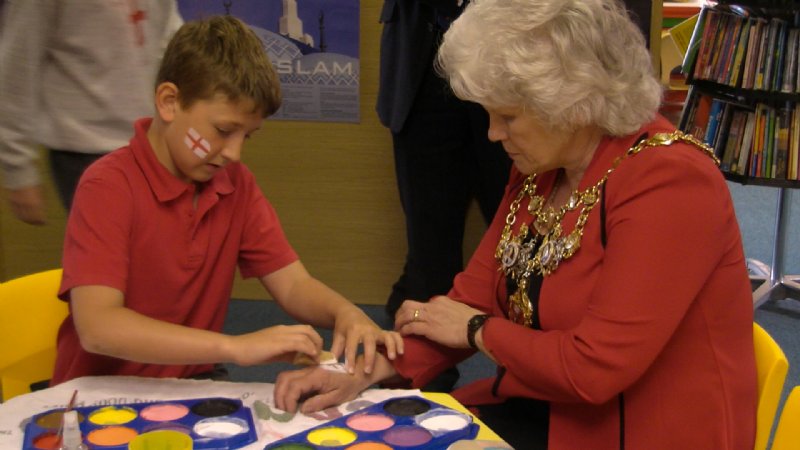 We went on double decker coaches to Church and got there quicker than you can say 'St George's Day!' We sang 'This little Light of Mine' and 'Be Still'. St Michael's Chapel Choir were there and they sang some songs too. It was beautiful; they were really good.
We had a fantastic day! What did you do to celebrate St George's Day?
No comments have been left yet.