Pre order option for Junior Kids. (no change for infant kids)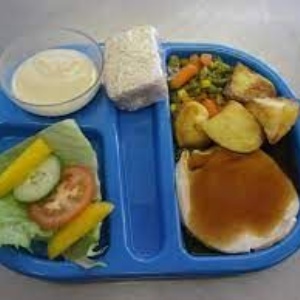 In a huge change to the way we order school Meals junior kids can now, indeed should now pre order their school meals! The term's menu is now on SCOpay - so parents if your child is in the junior classes you now need to pre-order what your child wants! You can order what you want, when you want..... pick and choose.... it's over to you! The only thing you need to do is pre-order!
If your child is in the Infant classes you need to nothing! Leanne will sort it all!
At St George's School the school dinners are genuinely beautiful, made with love, and served with a smile. School lunch time is genuinely an enjoyable, social part of the day, where old friendships are cemented, but hopefully, new ones are forged, especially now bubbles have gone!
From September 2021.
Infant children are once again entitled to a hot school meal, free of charge. For more information contact Sharon or Anna in Admin, or follow this link for the current menu, provided by lancashire School Meal Services. For information, we're a "fresher plus" school!
Junior Kids - This is new, and different. Sit with your adults, and pick and choose what you want, and when you want it! Adults - just click an order on SCOpay! This is a massive shift for us, and comes from parent feedback. It wont be easy at first - we have a lot to learn, kitchen staff need to change, and there is also a shift in what you at home need to do!
But let's give it a go! If it works, it will be mega. Any problems, and initially there will be, please let us know to help us learn and adjust.
Free School Meals
Please do register your entitlement to free school meals - even if your child is in the Infants, or you don't take them. It does significantly affect the school budget! Click on this link to find out if you are entitled to FSM, and how to register your entitlement.
Please enter some content for your news story here.