Africa Trip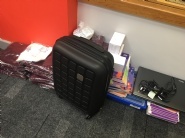 Excitement is building in school this week as resources are gathered and suitcases packed! Be sure to watch the website to follow the journey....
Andy and Michelle are finalising their preparations for the trip to Nanyuki in Kenya, to see how our fundraising money will be spent. They are taking with them suitcases packed not just with clothes, but mainly school books, uniform items, recycled laptops e.t.c.
We are set up in school to recieve Skype calls from them, although success will depend greatly on how the technology operates at their end!
They will also be using the school Twitter feed to post updates, and we will update the website as regularly as we can. Keep watching to follow their adventures.