How did we go on?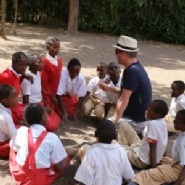 Thank you very much indeed for your interest and support in all that we have achieved in Kenya. We have made a wonderful difference to children's lives. There is more difference to make, more to be done…. But we have achieved great things out there. Thank you. Interest levels from you are high, and although I'm writing about our trip at length, and have spoken to many of you, we will hold in school an evening where Michelle and I will share some photos and tales of the trip, and our plans to revisit in March 2019.
This will be on Tues March 28th, from 7-8pm. Make it civilized, it you want to bring food or drink you can. Children are welcome. No money needed. There is no charge, and the event is not a fundraiser. Just to share with you what we have done, and our plans, and maybe Tony Greenwood's nickname that he acquired during the week!
Kenya is the most diverse country I have ever visited. It is a wonderful Christian country, with extremes everywhere you look. Extremes in wealth, beauty, crime and opportunity. I began to write this journal for you whilst in Kenya, watching the sun rise over Mount Kenya with the silhouette of the odd giraffe coming towards the watering hole. However, when we left the hotel complex, we locked our car doors and headed straight towards Nanyuki School, being starred at all the way by locals. It was difficult to understand whether they are staring with bewilderment, intrigue or disdain.

The headteacher of the school, Rose, is phenomenal, and was described by us on the trip as a living Mother Theresa, Sister Rita etc. She is wonderful. She has one aim and that is to keep the children safe and give them opportunity and hope through education. I suppose that's my aim as well, but at an unrecognizably different level. She is determined to give the children more choice than the expected and almost predetermined life working in the searing heat of the local quarry. Men, women and children (as young as 2) work in the quarry breaking rocks by hand from dawn until dusk. Rose's hope of building a boarding school, where the 85 children of her school can stay in safety from Monday to Friday is more alive than ever. It will happen within the next 12 months. Building on the original site had begun, with the school taking down one of their 5 wooden classrooms to fence off the area, but this has stalled over a dispute over land ownership, which, if it is to be sorted, will be sorted by the end of May. The school has 2 other options. Two other plots of land are now secured, with Michelle and me visiting the more likely of the two options. Please do not worry, although building hasn't started in earnest yet, our money is still there in full. Ring fenced for the building of a classroom or probably even two. It will happen. I promise.

The school itself is actually in a worse state than I envisaged. No running water at all. Toilets are flushed by water that the children collect from the river at the bottom of the play area; bottled water is collected from the drinking part of the river in the slum where the children live. On Tuesday, we paid £130 to get the school reconnected to the water supply. The excitement from the kids and the staff is water out of the taps was tangible.

The school has five classrooms, each floored with old wooden floor boards, several damaged and broken. Tony and Sam spent time repairing the floorboards and the damaged walls whilst we were out there, whilst Michelle and I taught the kids maths and English.
Very little electricity is in the school, a single light bulb in each classroom is about it. There are very few other resources that give clues that the building is a school. The headteacher's office is a chair and a battered wooden desk, the staff room likewise. The biggest clue is the kids. And they are great. They love school, they love learning, and they appreciate so much the work of their teachers (who get paid around £63 per month) and the work of people like us who support the school. The mission statement of the school is great, and could be from here, proving that without doubt, worldwide – kids are kids.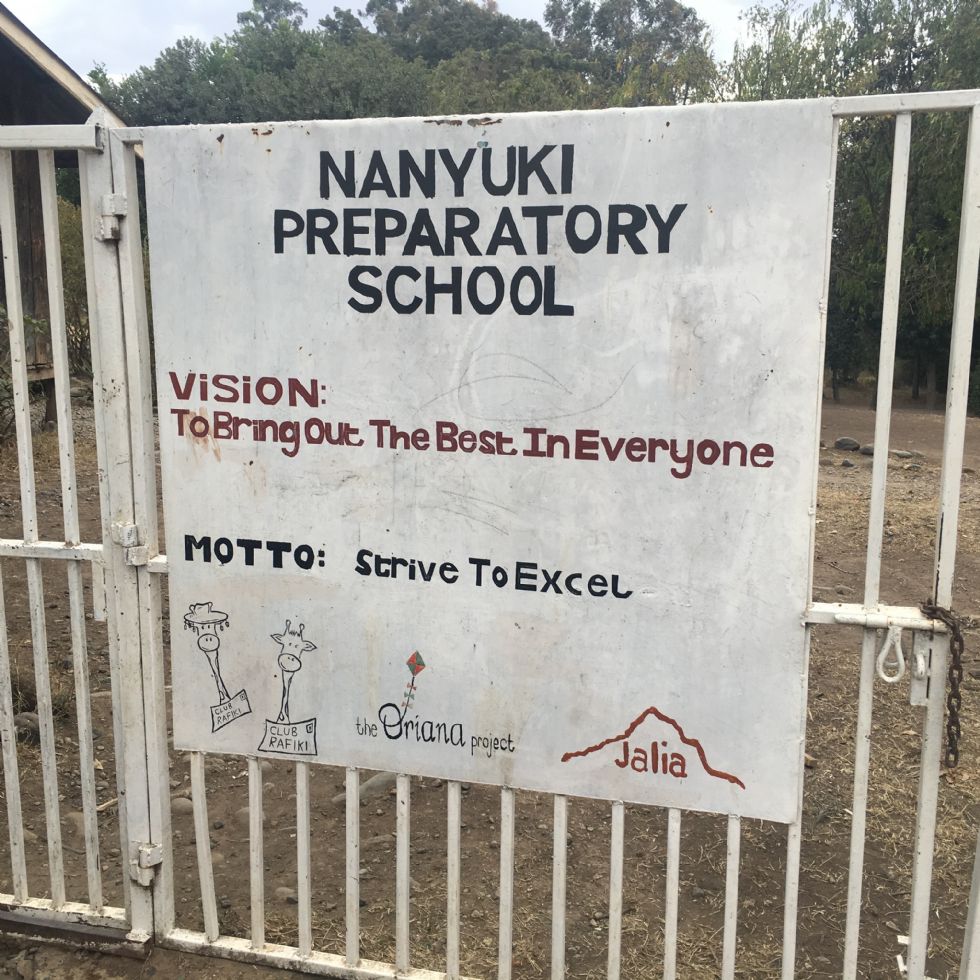 Teaching styles out there are very different-with no electric whiteboards no computers no individual textbooks for the kids they must be – I had to be taught what to do with the white stick of chalk I was given! My filter didn't stop me asking…. "Where do I plug it in…?" Rose laughed! But the children are bright and able and love learning. Rose is spot on that education is the way out for these kids.

The families from Nanyuki have the same emotions as us, but over incomprehensible things. One girls mum, Mary's, was so proud. She has saved up for 11 months for a single lightbulb – her only light bulb in the house. Now to us… that's strange, and maybe we find ourselves saying "aww….. What a shame…" But Mary's mum was proud of her achievements, and that is great. I spoke to another local about drinking water. They get it from the stream. I said, "Ok, so you get drinking water from the same stream as the cattle, and the same stream you bathe in?"
"Oh yes," they replied, "but it's ok because we drink from upstream, bathe mid-stream, and the cattle use downstream, so we're fine." Again; same language, same emotions, different meaning.
I could go on and on, but then there'd be no point in doing the presentation night, and the spoken word in this instance is far superior to the written word.
But I will conclude by saying what I'm going to do differently. But before I do that, what am I not going to change. Well paying off our overdraft is still very important to me and Sue…. We need to do that, and then we're going to save for a cinema room in the attic. I haven't come back depriving myself of western luxury – I don't believe we can do that. I am going to try and put things into perspective a little more; and a little quicker… although I failed when I was sat in my posh car on Monday morning, on my way to my posh job, have left my posh house…. But traffic was horrendous…. And then Mary popped into my brain, and I wondered what she'd be doing….. I need to practice perspective a little bit though; and remember many of the things that anger us, upset us, frustrate us are very much 1st world problems, as are many of ailments – certainly mine are! Again, let me reiterate I'm not belittling our difficulties, and nor should we they are important to us. So what is the difference I'm going to make henceforth….. Easy… buy fair trade coffee and bananas, and hopefully get back out to Kenya in March 2019.
Thanks for everything – and in using the word everything…. Haven't we got a lot?
Cheers, Andy
Michelle and I, and perhaps any of the other Kenya team, will hold an evening in school on Tuesday 28th March. The evening will be suitable for both adults and children, but the kids will have heard all about it in school. The evening will share one or two stories from the week, as well as photographs,