Keepmoat Poster Competition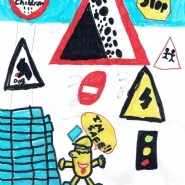 Design a Health & Safety Poster
I have been asked by Ed and his team from Keepmoat to raise the profile of the Health & Safety Poster Competition with the children. The children are asked to design a poster which can be displayed around the school premises to raise awareness of how to keep children and adults safe on a building site.
This is a good exercise for the children to do as it gets them to think about the risks on site and not entering construction sites.
The team at Keepmoat have kindly donated one prize for the winner of each class. The closing date for entries is on Thursday 16th March and winners will be announced at Celebration Assembly on Friday of next week. You can download an entry form below.
Here is an example from the last school that took part.