PTFA THANKS & SOCIAL.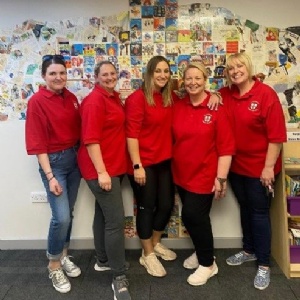 Come and meet Gail, Laura Tx2, Jenny and Kelly. Don't have the time, but would like to help? Curious about what we need? Don't think you can help? Come and meet them on Monday, free drinks, I think a spot of food and chat to Fab 5, or Super 6 if Matt's with us..... can we make it the tremendous 12??? Let's see if we can begin the 2 year hand over to a new PTFA - we really do need you.
Oh, noble St. George's PTFA, harken to my verse,
In words of gratitude, let thanks disperse.
A band of splendid souls, with hearts so true,
Kelly, the coordinator, guiding our crew.
Laura T, Laura, and Jenny, our honored kin,
Together we embark on ventures akin.
Your dedication and efforts, a shining star,
Ignite our school community, near and far.
Matt, the drink master, at the fair's grand booth,
Pours libations to quench our spirits' truth.
Gail, the skilled accountant, whose numbers bring light,
Balancing our funds with meticulous might.
Hence, in humble verse, I invite you all,
To a merry gathering, where laughter shall enthral.
On Monday, at 7 PM, let us convene,
At the Yarrow Pub, a social grand and serene.
Come one, come all, bring friends in tow,
A recruitment drive awaits, and seeds shall sow.
For in unity, our PTFA shall thrive,
Building dreams and futures, as we strive.
So, St. George's PTFA, your greatness we proclaim,
In Shakespearean style, we honour your name.
To Kelly, Matt, Gail, Laura T, Laura, and Jenny,
Our heartfelt thanks, our souls in harmony.