Education Sunday 2022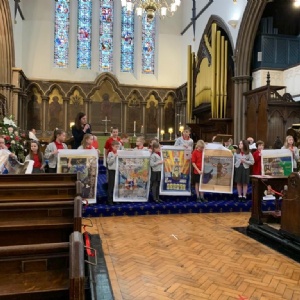 This Sunday, Ethos group led the church service in front of a full congregation. We led the readings, the prayers and "educated" the congregation about our big concept words from our worship themes.
We shared all 6 of our big concepts from the bible:
People of God
Incarnation
Gospels
The Fall and Salvation
Kingdom of God
God and Creation
We shared what we had learnt about the first 3 of these concepts: how the people of God kept turning away from God, how Incarnation was God's master plan to same his world and how the baby Jesus grew up to do amazing things. We even had time to teach the congregation one of our favourite hymns, "All Through History."
If you'd like to watch our "at home" version, it can be found here: