Ethos Group

Hi,
We are the Ethos Group. Together, we are a team who aim to be a role model to the rest of the school. We always try to look out for people in school who are sharing our Christian Values. If they are really showing off our values, we might even give them a Rainbow Reward!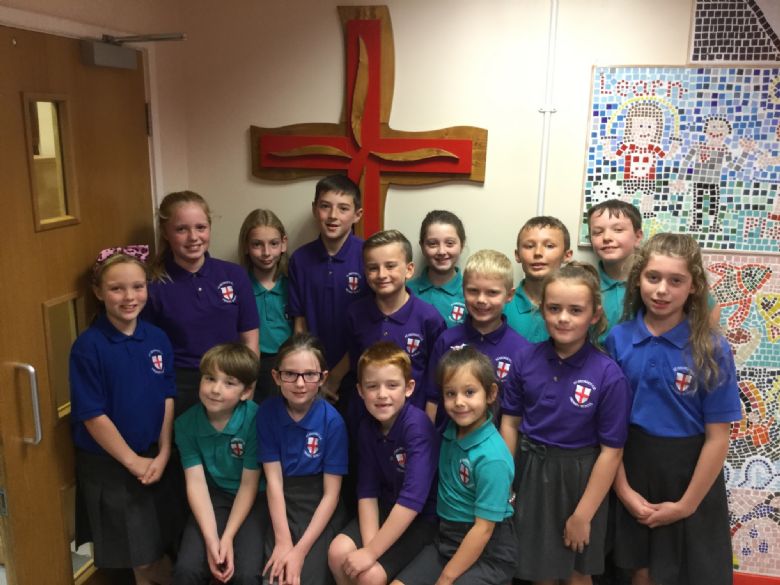 To show we are in Ethos Group, we wear a gold cross Ethos badge on our collar. It's a proud moment when we get our badge.
We lead Worship every Friday. We give out certificates, we announce which team has won the team points and we help the school learn our half termly memory verse. The memory verse is always linked to one of our Christian Values.
The biggest highlight of our year is Education Sunday. We lead the whole school, their parents, and the congregation in the service at Church. This year, our Education Sunday Service was on 7th February 2021. Obviously, we had to do things a little differently this year! Some of us were able to go St Georges Church and help lead the service with Rev. Mike but we also created an "Education Sunday Service at Home" video, which enabled the whole community to join in with Education Sunday. You can watch it here:
If you are interested in Ethos Group - come and talk to our current members. In September, you will even be able to apply for the role yourself!
This half term our Christian Value is 'Peace' and our memory verse is:
Romans 15 v 13
May the God of hope fill you with all joy and peace as you trust in him.
To go to our vision and values page please click here
To return to our RE pages of the site please click here